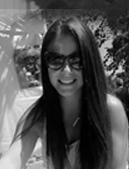 Mayra Montes
Hometown: Los Angeles, CA
Team Sales Assistant
Who is the best teacher you have had?
The best teacher I ever had was my second grade teacher, Ms. Monson. Even as an eight-year-old, I sensed that she respected me as a person - not just a student. She showed me so much kindness. She moved back to her home State of Minnesota at the end of the school year. We remained close and wrote each other regularly - she was my first pen pal. In fact, we keep in touch to this day!
Which event in the past, present or future would you like to witness in person?
To witness Martin Luther King Jr deliver his 'I have a Dream speech' in person.
What's your favorite quotation?
'Feelings are real but they aren't reality' - Dan Harmon
What do you miss about childhood?
Endless summer nights … never feeling cold… playing in the rain.
When you were young, what did you want to be when you grew up?
FBI agent or SWAT Team
What is on the top of your "bucket list"?
View the Northern Lights.
Fun Favorites:
Favorite Movie and movie snack? Favorite movie this week - Life Itself. I don't snack during movies.
Favorite Dish/Meal/Cuisine? Mexican food & Seafood
Favorite Car? 1960 Cadillac Eldorado Biarritz Convertible
What do you like best about your job?
I love the work-life balance that we have in our office. I also love that there is always something to laugh about every single day. Laughter is good for the soul.
What is something interesting / unusual that you want us to know about you?
I learned how to swim as an adult.