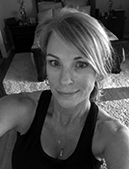 Bambie Martinez
Hometown: Los Angeles, CA
Sales Assistant
Who is the best teacher you have had?
My son Julian. Julian has made me realize I have more patience than I could have ever imagined; he has taught me not to judge others, to accept all people for their differences and to love unconditionally. Julian is on the Autism Spectrum and there is no better teacher than a child with special needs.
What's your favorite quotation?
"Tough times never last, but tough people do" - Robert H. Schuller (and my mother!)
Five Favorites:
Favorite Movie and movie snack? Grease (the movie) & salty, buttered popcorn, with a Coke and Butterfinger Dibs ice cream.
Favorite Dish/Meal/Cuisine? Cuban, Puerto Rican & Peruvian dishes
Favorite Car? 1967 Ford Mustang Convertible
Favorite Song? I have two favorites: "Baby Got Back" by Sir Mix-A-Lot & "Yeah" by Usher
Favorite book? I Know This Much is True by Wally Lamb
What do you like best about your job?
Everything! Mailers Haven has a family vibe, I love my coworkers and clients!
What is something interesting / unusual that you want us to know about you?
I am the youngest of 6 children and I am the only girl. Having 5 older brothers was awesome and I wouldn't want it any other way. There was nothing they did that I didn't do, I rode motorcycles, dirt bikes, skateboards and climbed every tree in sight. I was basically one of the boys.
Any Achievements/Accomplishments you want to share?
I have accomplished raising well rounded, great kids who are productive members of society. I'm looking forward to achieving an early retirement with my husband to enjoy life and travel.