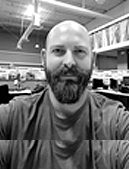 Chris Brumley
Hometown: St. Louis, MO
Team Sales Assistant
Five Favorites:
Favorite Movie and movie snack? Magnolia, Milk Duds
Favorite Dish/Meal/Cuisine?A cheeseburger and fries or BBQ of any kind
Favorite Car? Porsches
Favorite Song? "Don't Look Back in Anger" - by Oasis
Favorite book? "The Moviegoer" or "Lord of the Flies"
When you were young, what did you want to be when you grew up?
A superhero.
What's your favorite quotation?
"You can get all A's and still flunk life." - Walker Percy, The Second Coming
Have you ever been awarded anything that you would like to tell us about?
I am a millennial, so I have a large cabinet full of participation trophies.
What is on the top of your "bucket list"?
Make a "bucket list".